Welcome, once more, to Inspired Spaces!
Today we get a peek in to the work studio of Brenda, the metalsmith behind Decadence 2 Jewellery.
Her work is "[a juxtaposition] of garbage vs. precious, and certainly merits more than a passing glance. Read about her below, and check out her shop as well. 
So nice to have you, Brenda! 
-
Describe your workspace - what does it feel like? -what's the mood? -color scheme?
I'll be honest, my first thoughts after being asked to participate in this interview about my workspace was 'OMG, I need to clean this place up!'...but I appreciate truth and I would not be truthful if I made my space look like a magazine photo spread.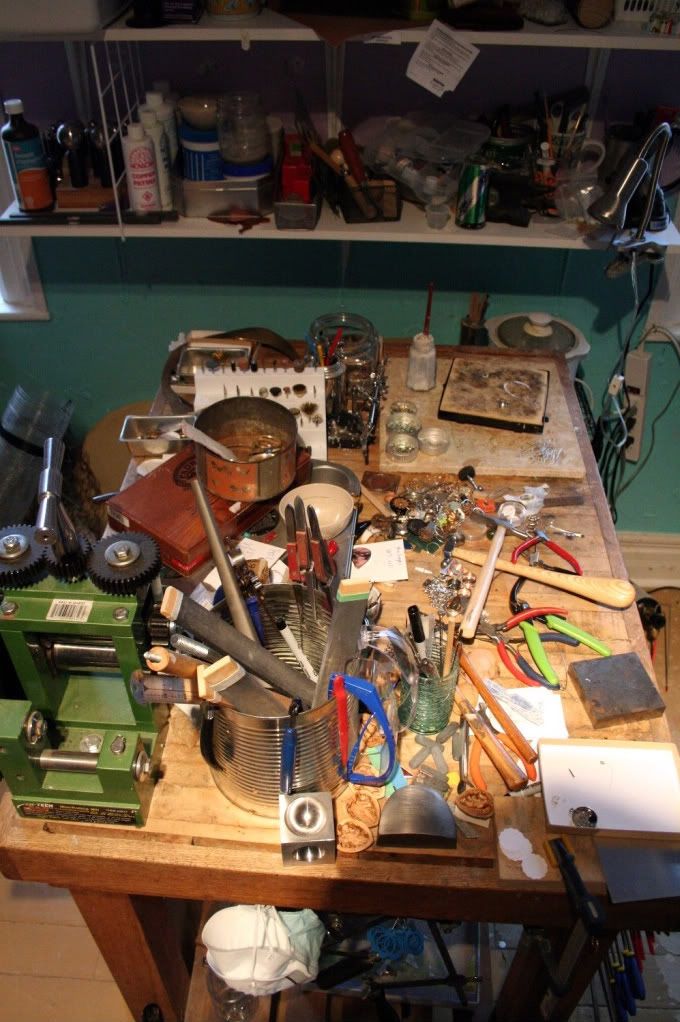 My workspace is a large open room in the upper front section of our 1850's fieldstone farmhouse, the house has had a lot of changes internally (including a few years of being a gas station/diner!) and my studio space was probably 2 rooms originally. We bought the house as basically abandoned and have been renovating as we go, I can't wait to get to this room! I have so many ideas for it!
My room feels cluttery, visually stimulating (probably too much so), I've filled the nooks and crannies with just about everything you can imagine. 
I like to re-use as much as possible so when we renovated our kitchen, the butcher block that my husband had made from scrapped shelving from where he was working when we first got married came upstairs to become my jewelry bench. I picked up a large wooden dining room table to use at a yard sale, it now holds a large assortment of my crafting treasures in the middle of the room.
What inspires you to create?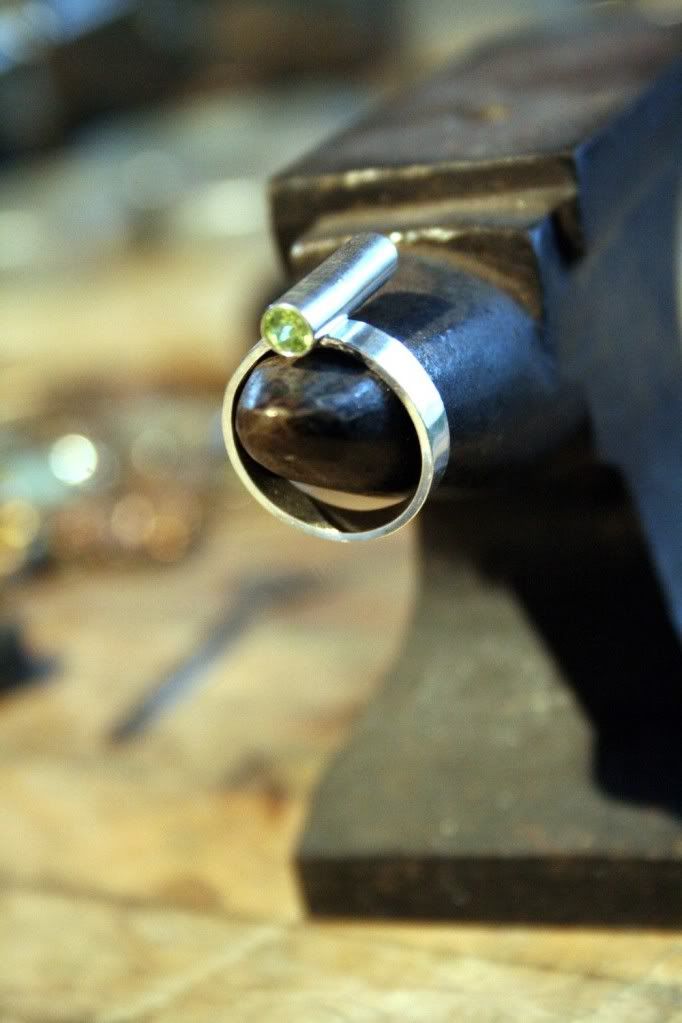 I can find inspiration in the oddest places. In the supplies themselves displayed in glass jars or bowls, the jumble of junk bits & pieces I collect for assemblages or collages, artwork in media I don't work in can spark a 'what if I re-interpret that shape in metal?', even random product labelling on food packages can inspire a color combination in jewellery or fabric...
And then sometimes it's just plain old 'it's time to work'...I enjoy taking the odd day (or week or month) off but the reality is  that i'f I don't create, I can't sell and then I can't eat' ...sometimes you have to 'force creativity' by just getting down to work.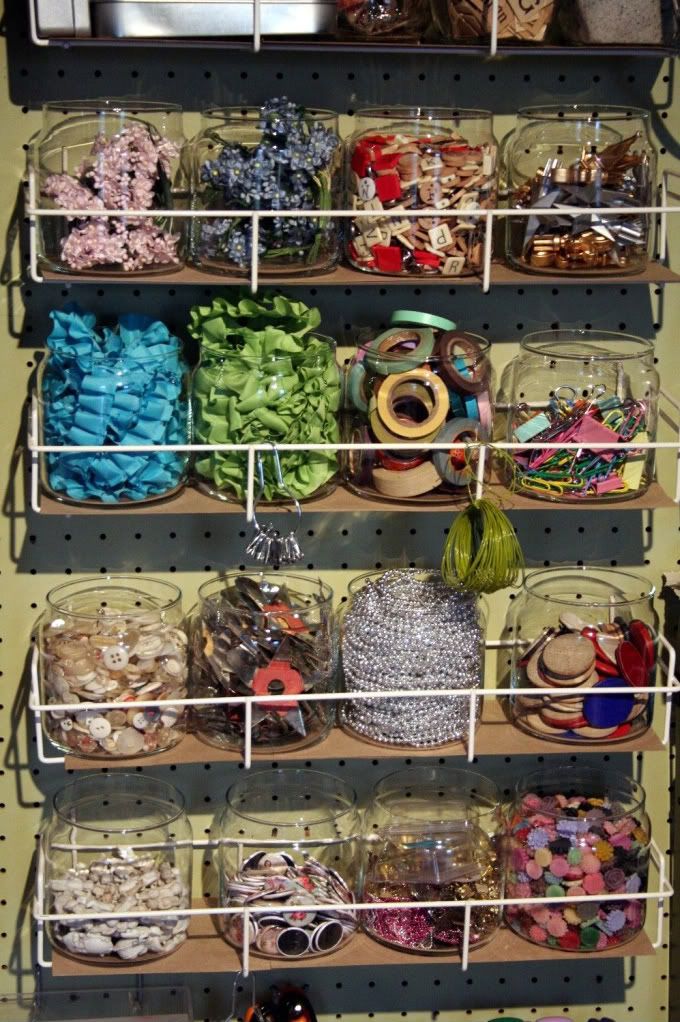 What is your favorite aspect of the space? 
My favorite aspects is the size of the room and the privacy, it's a fairly large room at 14' x 20' and being situated at the front of the house along with my separate office and a storage room means I can retreat up there to work...or play. I have a great view from the 2 windows of our side yard, it overlooks our patio area and a natural mulched space under some trees.
 I work in 3 main mediums: paper, cloth and metal (collage, felting & sewing and jewelry) so the size means I can have 3 'zones' in the room devoted to my 3 mediums. 
Fill in the Blank: When I step into my workspace, I feel:
I feel comfortable, energized but calmed at the same time.

I'm surrounded by what I love. 
Neat or Messy?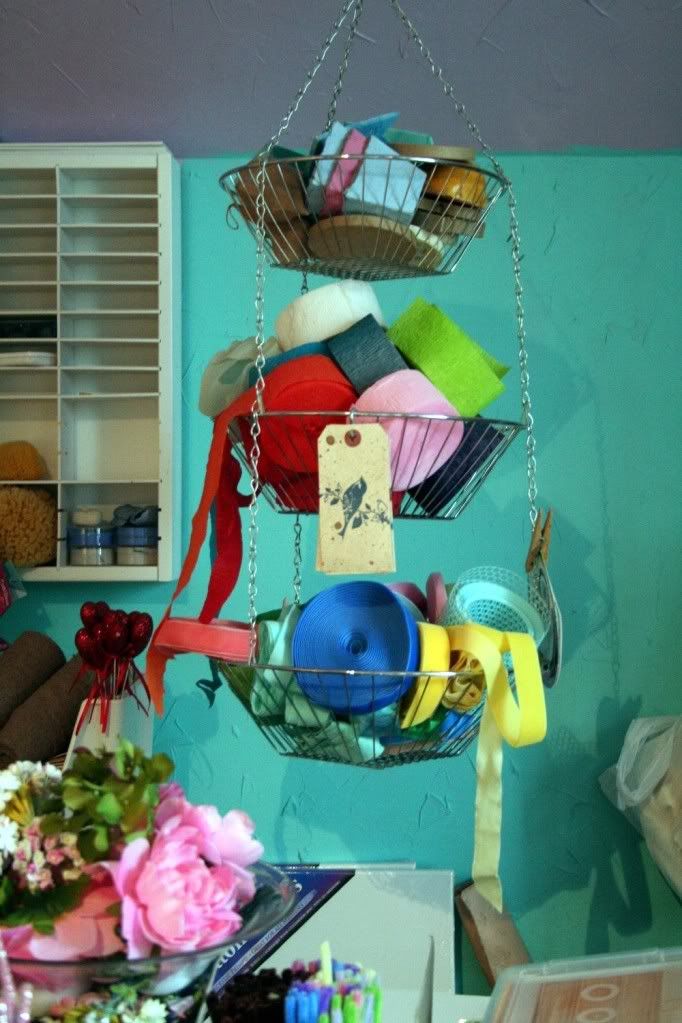 Ha! definitely Messy! but oddly organized. I call it Organized Chaos. Ask me to find something, I can find it but it's probably at the bottom of a stack of cigar boxes or stuffed under the table. ;-)
What are you working on now?
I've been working...slowly...for about a year on jewelry pieces that feature a combination of found objects, photographs and precious metals, I juxtapose 'decayed beauty' such as antlers or bones or rusty things with faceted gemstones and sterling silver or gold. I like to blur the lines between what is typically viewed as 'garbage vs. precious'.  I find the reactions to it interesting, people are either repulsed/confused or fascinated.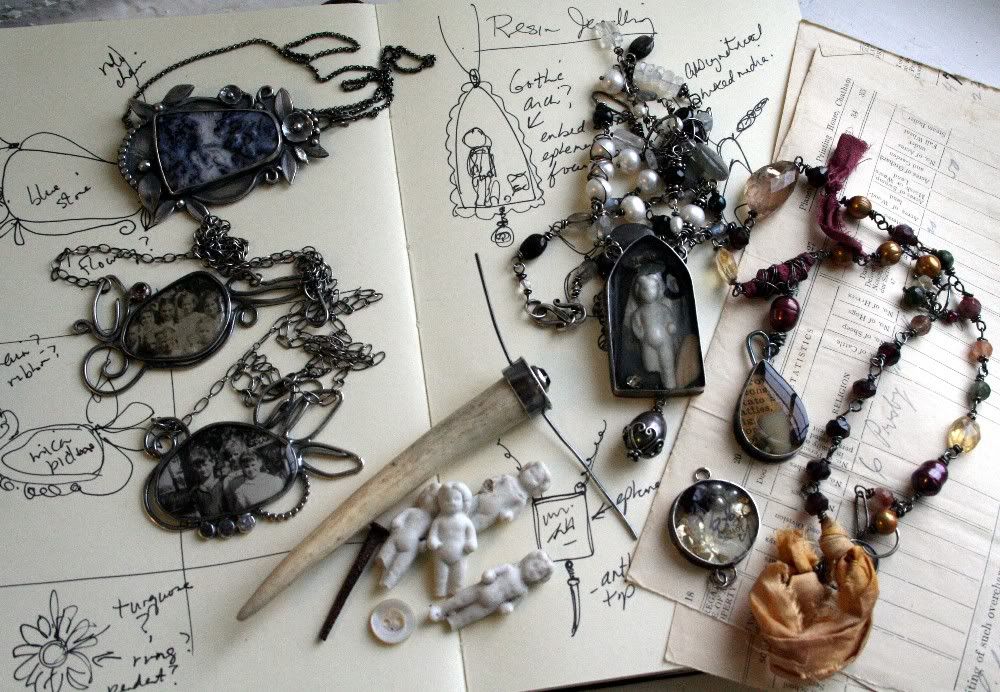 I get the most interesting gifts of 'junk' from my friends & family.
I'm waiting right now on a package from my son in Northern Saskatchewan who told me he's mailing me a 'dead thing'....hmmm....
I have just re-immersed myself into collage and assemblage and hope to have more works available this year. This means I get to use the larger rusty things that won't fit in my jewelry pieces.
This space would be perfect if: 
I dream of a whole wall of countertop & cabinets, open storage above (because I have to see my 'collections' of ephemera & tidbits) and drawers below. I would also love to have the room for a comfy chair or 2 with a wall for displaying works ready to sell...someday....
Where can we find you and your work? 
My website is at http://decadence2.com. 
I have stores on Etsy at http://decadence2.etsy.com, http://justabrenda.etsy.com
I also sell locally at various shows & markets in Chatham-Kent, Ontario, you can keep up with that info on my facebook page at http://facebook.com/decadence2boutique You can find my blog at http://brendabraun.blogspot.com
Thank you so much for sharing with us, Brenda!
-
And thank you all for stopping in to Inspired Spaces! 

I love seeing all the images, esp. of works in progress!
It's fascinating to see the labor and thought process that precedes a listed item. 
Come back next Friday for another inside peek into a design studio.
Do you have an inspiring design space? Interested in being featured?
Spaces are open for June and beyond. 
Email me at kait@kaitmakesthings.com. 
xoxo Kait